«Subway Sketchbooks 2
|
Front
|
Subway Sketchbooks 3 »
January 29, 2003
I am fine
The doctor was very nice. It was one of those really happy visits one would see on television when the show is about this really caring doctor. He asked the right questions, was honest with me, did nothing painful just for fun. It was good.
And he gave me options. I could either do nothing, which is always a great option. I could do some tiny procedure involving needles, or I could go through some major surgery which would put me in a cast for two weeks.
I opted for option number one. So I have a silly bump on my right wrist now and I might not be able to be part of the olympic gymnastic team. (With 6.3, or 190cm, that was out of the question anyway.)
The cracking sound the wrist makes? Well, it seems to be just a side effect of the silly bump. We looked at X-rays of my wrist and it looked like any other wrist to me.
The tingling and numb feeling in the fingers? That is just because I spend too much time typing. Oh well, we somehow knew that.
So I will just keep wearing my special brace to bed, will try to keep my elbow straight while asleep, and in no time I will be 80 and have some real health problems to worry about.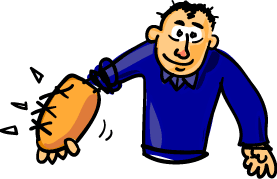 Yes, there is a medical term for the "silly bump". (I actually was right on target when doctor Google and I did some self diagnosis.) But why call it by some serious name when after all it is just a silly, sometimes pain causing bump.