November 27, 2005
«October 2005
|
Front
|
December 2005 »
November 27, 2005
2x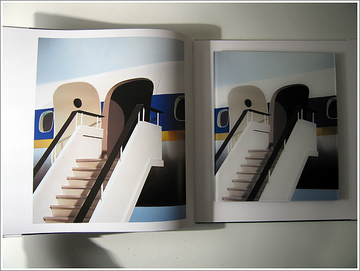 (the piece shot here twice in one frame is called "Gangway" (2001) and is by the incredible
Thomas Demand.
November 21, 2005
«October 2005
|
Front
|
December 2005 »
November 21, 2005
just sitting by an opening pine cone.
took a good imaginary walk through the empty rooms shot by Candida Höfer this evening. Architecture of Absence, an Aperture book had arrived today, just in time before the rain. It was good to walk quietly page after page after page after page. I then took an even more extensive look through that Schirmer Mosel book called Monografie. The sweet scent of never opened pages, the empty rooms upon empty rooms upon empty rooms. A wonderful walk on a rainy evening like this one. Here I am in an almost empty room myself. Calm. Good. I am not complaining. The drops are hitting the glass so well. Empty rooms, quietly arranged on pages of freshly opened books. I returned the books to their shelf spaces and glassine wrappers. Good. Quiet. I had found a very small television set last night. It is so small it does not even know for sure if it is a television or a radio or maybe still an alarm clock. The baby does not work. I will open it up in a few nights. I will not be able to repair it. I will at least have tried. Thursday evening will be probably time for it to return to the curb. There was a small red bird sitting on the edge of the fire escape this morning. I looked at him for a while—he looked at me. I walked a bit closer to the window which made him fly away. Not only him but also a larger bird which was a bit out of my line of sight. The squirrel, working in my herb garden did not want to be interrupted. I wanted to take pictures of the gardening animal but it then decided to move on. I steamed a large pine cone the other day. Not only did it shrink into a very dense object, it also exposed spikes, thorns, sharp edges, protectors. It wanted to be left alone, apparently. I have kept it next to my chair here in the living room since. It is now open again, almost completely. It can now be handled again, as if nothing had happened. It is calm and peaceful. I harvested maybe 10 seeds. A card with images of relaxing catalogue people sporting ecstatically laughing chimpanzee heads has arrived in the mail today. "Hello again, dear one." were the only words on it, besides the address, of course. The words had been nicely cut out of a vodka advertisement. Perfect. As the evening progresses, I hide deeper and deeper in a thin shell and expect my work to go finish itself. And it will not, and I will have to work tonight, and it is probably good this way, as I will have less to complain about when it comes to the slow deterioration of my brain. (Taking place right now, ladies and gentlemen.) I like how quiet this house gets in the evenings. All I can hear is rain and the slowly expanding pipes of the heaters. And outside a raging world with filled and empty rooms and with rooms facing backyards and posters with bunnies and the american west and there is a sunset and a sunrise and everything in between, right this second, as a plane is getting ready to land in the borough north of here. And the empty rooms in Candida Höfer's work will stop being more than the photographic memories... And soon, very soon, tomorrow will also arrive here.
November 13, 2005
«October 2005
|
Front
|
December 2005 »
November 13, 2005
meeting
Behind a door on the third floor was a room with seemingly no visible windows. Despite of the orange glow coming from lamps arranged behind wooden benches lining all four walls, the general hue of the room was rather neutral. The walls seemed orange, but the air appeared greyish, maybe bluish. There were several people in the room. Some were equipped with various cameras. Some were whispering. Some were actually taking pictures. It was rather cool. There was a humming in the room that felt as if the inside here actually meant outside. And it did. The most prominent light source of the room was a rectangle in the ceiling. This is where the grey light was coming from. It was a powerful and very equally distributed light. This is what the two Japanese tourists were talking about. This was what that couple cuddled into one of the corners kept staring at. This is what a man with a giant digital camera kept taking pictures of. I had no idea this room existed. It has been here since the fall of 1989. Who knew. We were now in a meeting. That is the name of the piece. New visitors would enter. Some people happened to be more quiet than others. We were all here to see something we could have as well seen at a very different location, but here it felt completely different. Here it was prepared for us humans. We were given a color contrast, a reference, an enclosed space, we were given other humans to share with. We were given all the things that make us pay attention to the world, be it natural or made by artists or anything in-between. And so we sat there. It was really most beautiful. The light in the ceiling constantly changed color. It went from that greyish fall color through an infinite number of blues. It then finally arrived at a dark black, a black that had one or maybe three little white dots in it. The change of color was only really apparent when one decided to leave the room. Coming back made things more beautiful and more spectacular than possibly could have been expected. How incredibly rich the color could be. How beautiful it was and how every moment glued more than the previous one. And memory was not capable of recording the event. Photographs were just very rough recordings of the changing conditions. It was magic. James Turrell created an amazing space here at P.S.1... amazing. Weather permitting it is open from 3:30pm-6:00pm. At least between November 17th and December 27. The opening times change slightly every few weeks so the room is there for the public about an hour before dusk. I think we will be there on a beautiful day when there are clouds. I want to go... And I will not write about that weird father and his daughter. That was just a bit too disturbing to be described in a nice way.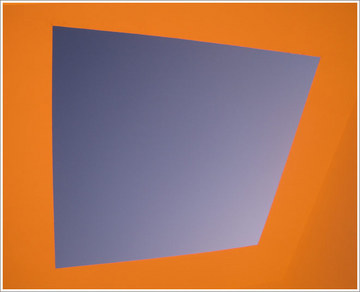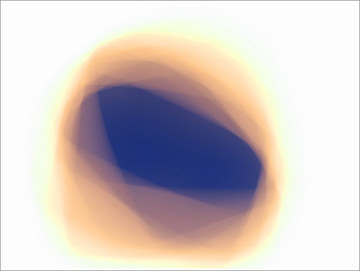 Here is much more about James Turrell
November 11, 2005
«October 2005
|
Front
|
December 2005 »
November 11, 2005
when the color appears to be blue at first sight, but then actually is not at all that simple.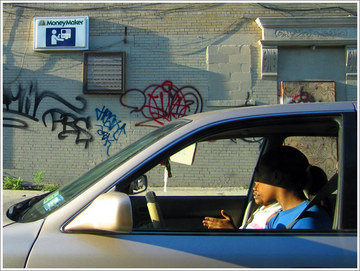 November 10, 2005
«October 2005
|
Front
|
December 2005 »
November 10, 2005
just sitting around.
hello, good evening, yes, that's okay. i know, it does not make much sense right now. and maybe it never will. who knows. nobody knows i guess? maybe? after i managed to optimize my web experience to the point where i only have to click a few buttons to unleash whole legions of tabbed sites, which then bring me an ever repeating series of abbreviated content, and since i stopped replying to emails, well, i guess i have simply entered a different state of skim being. i stopped touching the surface now. i managed to actually remove myself far enough from the surface to sometimes even lose sight of it. the edges of the box have long faded into that myst on the horizon. hello world. i think i remember you being there at some point? what was i talking about? short attention span is annoying at times. even the short versions of the short articles are skimmed for the looks of their layout more than for that linear experience of that word string thing. so why am i still writing at all? perhaps because i am too lazy to post anything else than words. if the computer consisted of only a microphone, the stuff here right now would be some noises. maybe some heavy or maybe some light breathing. beginnings of sentences perhaps. wha? my chair is making weird sounds. though it could be that it is not the chair. it could very well be the floor under the chair. i am too lazy to check. for the last two or three hours i have been sitting in this chair an making noises and listening to music and surfing the web. i have been killing time as if it were a mission. i could as well be studying the maps of hell. i will close this computer now and i will go to the other room and i will grab that pencil and i will probably give up in about 2 minutes. just drank a glass of orange juice. producing that perhaps required more energy than i have generated the entire evening. this is all very wrong. hell o grr.
November 08, 2005
«October 2005
|
Front
|
December 2005 »
November 08, 2005
nothing in particular really...
It was a bit of a blade-runner moment last night when I walked to the train from 8th avenue to Rockefeller Center. There is a borded up building right next to the theater where crowds of tourists gather each night to watch yet another interpretation of Chicago, the "hello Berthold Brecht why didn't you think of black patten leather(?)" musical. In an odd corner where one of the entrances must have been was a man dressed in torn grey fabric. Not only was his clothing consist of a monochrome set of rugs, his face was also covered with some sort of greyish camouflage substance. His hair was arranged in greasy strings. I would have probably not even noticed he was there, were there not this blueish glow illuminating his face. He was watching a movie on a portable DVD player. And I did not take a picture. And it sounds unbelievable. And it was somehow very amazing. And the searchlights on the top of the rock keep looking for birds to fry. And i took the local train home tonight, just so I can watch brooklyn from the highest station in the system. And it was as great as every time I take the F. The house is so calm and quiet tonight. I am now just waiting for the refrigerator to finish it's compression job, so I can listen to the air passing through the open windows. It takes a good while to be ready to actually draw. (I hope I can make it before midnight.)
November 07, 2005
«October 2005
|
Front
|
December 2005 »
November 07, 2005
How a few phonecalls made me see a great side of Herman Miller, speak with Mark Goetz and sit on a really amazing sofa he created. (A version of it, executed in Paul Smith fabric, hidden on the 12th floor over Madison Avenue.) Wow, what an odd adventure.
Hmm, how can I put it mildly... the phone is an amazing device. It is much faster than email and it makes things possible I forgot were possible. Today was amazing. I "called" Herman Miller today, as I was very interested in sitting on a sofa. It was not just any sofa, it was that pretty amazing
Goetz Sofa
a contemporary classic designed by Mark Goetz, (the man behind
Tz Design
) for
Herman Miller
. The sofa is a bit like a mix of that Eames Lounge Chair, as it uses plywood for its frame but it also has some of those le Corbusier
Petit Confort
ideas, with the support being on the outside and the cushions being completely loose, simply held together by the structure of the design. (The Goetz sofa has some other brilliant qualities that are completely new and really brilliant. It is so incredibly precise that it would have been simply impossible to build before there were computer controlled saws. I mean, it is so precisely built, no human could possibly build it.) So I called Herman Miller. And I was expecting to get one of those "your call is very important to us" messages. Instead I got a human voice. I told my story. I really wanted to try out this amazing sofa, I have heard great things about it, it looks great, but I can not find a place where I could actually sit on it. I mean, is it comfortable or just a concept? The woman on the other end was surprisingly helpful (there had been no warning that our conversation were to be recorded.) She suggested several places of which I knew that they did not carry the sofa. We walked in our conversation from places in Midtown all the way to Carroll Gardens. No, the sofa was nowhere to be found. I finally made a jokingly suggestion that maybe Mark Goetz, the man who invented and designed the sofa would probably know where there was one to sit on. The woman at Herman Miller agreed. Not only that, she also just gave me a phone number. "Why don't you give them a call. I bet they know where the sofa is in New York City." "I can not call them. That is as if I called the Eamses to find out about a chair." "I bet you will just get to speak with the receptionist." We both laughed. Yes, those
TzDesign
people would know where I could sit on the sofa. The receptionist would know. So I called. And I did not get the receptionist. And it happened to be Mark Goetz' privat number. Nice. Here I was calling the only living designer who has his sofa sold by Herman Miller. And I get to talk to him in person. So, where can I sit on that Goetz Sofa? Mark Goetz was incredibly friendly, especially considering that I was a stranger calling about a sofa and where I might be able to sit on it. He agreed that it was difficult to find a sofa out in the wild of New York. "They happen to sell out very quickly," he admitted. "It looks like the design really rocks," I said. I mean, it does. Goetz remembered that there was a Herman Miller showroom on Madison Avenue, between 60th and 61st street. He actually even called information to get me the number(!)... wow. I thanked him for the amazing design (on which I yet had to sit.) He told me that Herman Miller had a version of the sofa on display which was covered in Paul Smith fabric. It apparently looked rather cool. (The man was really incredibly friendly.) So I called the showroom. Again an amazingly friendly person answered. I should just come by, just visit. Yes, they had the sofa on the floor. I jumped in a cab. It was late in the day and the streets were quite clogged. I arrived at the entrance a bit late, actually far too late for the doorman of the building. He just looked at me as if I wanted to enter a temple after sunset. I was not welcomed here. I called the showroom number. Again the friendly woman answered. She had been waiting for my arrival, and it was okay that I was a bit late, she knew I would be a little late. She called the concierge who just turned into a very different person. He made me sign in and I was allowed to enter. On the 12th floor of 660 Madison Avenue, I entered a place I had not even known existed. Here they were all the pieces I somehow knew from books and
Highbrow Furniture dot com
The objects here were somehow very special. Two of the
Time Life Executive Chairs
stood there, made out of Pony Fur, for example. (I do not think I have ever seen anything made out of Pony Fur up to this point in my life. The friendly woman walked with me to the back of the showroom. Here it was, that Goetz Sofa in Paul Smith fabric and it looked much friendlier and much more elegant than I had expected. I was offered some Pellegrino and I was just left alone with the object. Did I just call and did they keep the place open just so I can check the feeling of a sofa? I mean was this some sort of daydream or something? Did three phone calls just bring me into this amazing place? The sofa was incredible by the way. A walnut shell held together some very well crafted grey cushions. Nothing was attached here, the pieces just naturally knew where they belonged. I sat on the piece, I spread myself as comfortably as possible, I relaxed. I removed all of the cushions, one by one, I examined the quality. I checked the walnut edge. Admired the inhumanly precise cuts on the walnut veneer. Amazing stuff. I was given samples. I was given some more good advice. I was given some pointers about objects not available for sale. (Some crazy Eames Table I did not know ever existed, for example.) I left the place and walked onto Madison a little drunk from all the unexpected experiences. And I definitely did not manage to describe them all correctly. It was a really great evening. What surprises. How powerful of a tool is that phone. How amazingly friendly can people be. I am totally getting that sofa now. Seriously. It is the good stuff. All around. (Oh, and I will get it from
HighBrow.
)
November 02, 2005
«October 2005
|
Front
|
December 2005 »
November 02, 2005
Teeth on teeth and candles on.
There was not much left to be said yesterday, when I held on tight to my chair in the apartment with three candles on. One of the dead, one for the living, one for those who are somewhere in between. It was all saints night, the serious family holiday on which masses of Polish people pretty much set cemeteries on fire, in a civilized way of course. I had had a day on which much too much coffee had made it through my body and it had left far too much caffeine for me to even be able to attempt to grasp one of the thought that were racing through my skull like very angry spirits. And i sat at that drawing table in the other room and i pulled out a green pen and some pieces of paper and after about 15 seconds or so it was completely clear that this was not the right time and not the right person and not the right thing to be happening at this particular place in space and time. And so i pressed myself between the pillows, and i tried and tried and tried to sleep. And it eventually worked. It worked quite well actually. Finally. Damn. Should I have walked over to the cemetery last night? Should I have jumped the fence perhaps? Maybe position myself somewhere in the center of the "private" burial ground in Prospect Park? What was i supposed to do? This morning did not provide any answers. None. Tonight I am going to look for more clues. And I will also get back to that drawing board. And the light table. And probably also this place here where virtual tumble weeds begin to accumulate at the few key words worth looking for.