«Chewing gum...
|
Front
|
Subway sketchbooks »
January 27, 2003
The Sock dog and you.
Many readers of this blog really seem to like Victor Stripey Hugo (He is the one with "witold" in the picture. He is a sock dog, he is a one of a kind guy, hand made by the incredibly talented Anna of Absolutely-vile.com. So while I can not quite share the actual toy with you. (VSH is busy protecting the house.) I can still share images or maybe some tiny little pictures for your desktop. So here we go, I made two little icons of Stripey for you, dear reader. You can download them and use them for your private icon needs. They are a gift for you. They are not for sale. They are not to be used commercially.
I can not guarantee they will look good on your desktop. If they do, please send links to screenshots. If they do not, please let me know. I am not sure I will be able to fix anything, but I could try.
The icons work probably best in Mac OS X. The largest picture below is the actual size of the actual icons. If you do not have the newest Macintosh operating system, you can still use the icons. You will only get to see the tiny size though. (Until you upgrade or Switch.)
I also made versions for Windows™XP®. I do not have this operating system here, so I have no idea what the little sock dog will look like on your PC™®. (Let me know...)
Again. I am not responsible if you decide to delete all files on your hard drive to make room for the dog. I also can not take any responsibility if the dog bites or pees or does other funny things (no, wait, he will not, he is a sock dog turned into two little icons). He is a virus free animal (as long as you get him here). He was originally hand made by Anna of absolutely-vile.com and then drawn for you on my little PowerBook by me.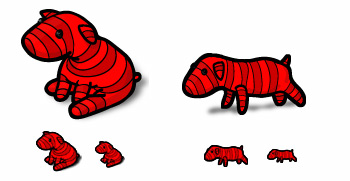 Macintosh users: Sitting Stripey or Standing Stripey.
Windows users: Sitting Stripey or Standing Stripey.
If you would like to know how to use the icons on windows and or would like to get more icons, visit dotico.com, I think it is a division of The Iconfactory, one of the greatest sites for mac users. So if you are a mac user, make sure to visit The Iconfactory. (They are also the makers of iconbuilder pro, the filter used to turn Stripey into a desktop icon. I could just go on and on about The Iconfactory, but you probably are not even reading anymore, but playing with your sock dog. I am happy for you.
Enjoy your own desk top sock dog. Have a great week.