«360x360x019
|
Front
|
360x360x020 »
June 03, 2003
The Scar
It was a real surprise for me when Derek M. Powazek asked me if I would like to illustrate a story he wrote for fray.com. I immediately agreed. I have to admit that I knew of him and that I knew that he had this really nice site, I knew that he had a very charming style, and that's about it. (I actually did not even know of fray, can you believe it?)
What I also did not know about were his thoughts on being Jewish when he was twelve, how he and his family defined his Jewishness for him. The story he sent me was incredibly personal and revealing, a more personal and a more revealing, than I had expected, for sure. It was written by an adult writer (he is an excellent writer), but some opinions in it were just clearly the raw thoughts of a 12 year old, a boy. Gosh, so now I had agreed to illustrate a portion of somebody's life in a moment when they clash with their Jewishness. (To give you a better idea, I was born in Poland, have a German Passport and was raised Catholic, so I am about as Goy as they get.)
Great. I was bound to mess something up with this one... I was really worried, of course. Also, last time I really illustrated stories was in 1989, that is a while ago. It was all a bit of a complex situation for me. I felt as if the Universe had selected me to show me that it is very easy to find a task for me that I can not tackle.
"There, buddy, bite into this..."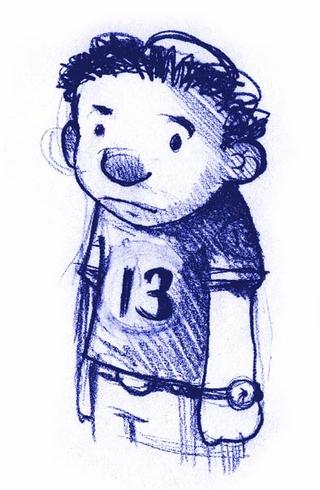 I really have to thank Derek for his patience with me. He waited for over a month until my drawings were ready. (Much of the time was actually spent on me thinking that I can not do this.)
You will notice that the style of the illustrations is a tiny bit different than what you might have recently encountered on this site. (Those of you who followed the moleskine postings for the last few months will probably see more connection.) I just decided that as long as I try to illustrate the story from the point of view of the 33 year old me, it would be speaking in a voice too "stiff" for what Derek had written. So I put my fountain pen aside, pulled out my 3B pencil and just drew like I think I used to before I worried about failing too much. I basically trusted my instincts. Once I was able to do that, it became much easier to remember how being Catholic sucked when I was 12, and how being Polish sucked when I was 12 and how not being able to speak the language of the bullies when we moved to Germany sucked and how being poor in a rich school sucked and so on...
Derek married the drawings and the story to a great set of pages on fray.com, so if you want to take a look what came out of our coast to coast collaboration of sly older twelve year olds, the story will be the title story of the month. I think it will always be accessible under this perma-link. What is your scar?