«Shauny minus 4teeth
|
Front
|
I & S »
February 26, 2003
Sub Series 74-75
The last pages of this particular book. Boy, was I glad to be back in New York. Back in the Subway, back in the shaky tins pressed between people and their dreams and ideas. (And frustrations.)
The original idea for the little book was actually to make it all about the subway, to draw only in the subway, to go to places, to see New York from the subway. Because of the size of the little book, it could then be given to visitors, who would then try to retrack the adventures and sights and moments. (and yes, they could color in the drawings, why not?)
If you followed the book even for the last few pages, you know that I went off on too many tangents and had to many sidetracked thoughts to really make it work as originally intended. So maybe not this time, maybe in some of the upcoming books, maybe the real subway series will be a compilation of the best of the little books. Just the way it should be. Thank you so much for your attention and your kind words. Some of you wrote me that they even bought little Moleskine books and are now creating their own private Subway series. This is just wonderful. So many good moments. All around the world.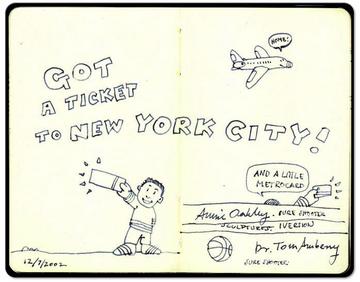 How did you get to this site?, Should I scan in the next book? (I have not yet.)