July 22, 2002
Remembering, Reflecting, Proposing, or
an architectonic / photographic memory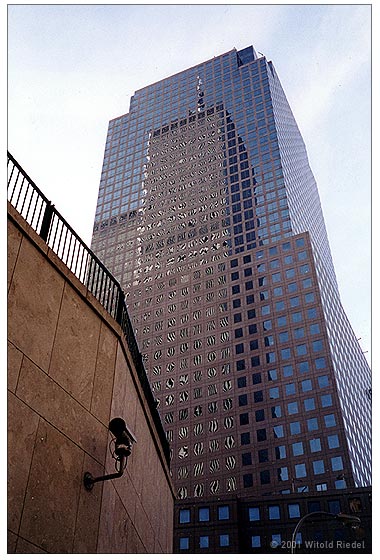 What if one, or maybe some buildings around the World Trade Center Site "remembered" the reflection of the Twin Towers? The windows in these buildings would be replaced with the pieces of a Twin Tower reflection.
Visitors could then still experience the dimensions of the towers from certain specified points and could be reminded of this overwhelming size of the buildings and the dimensions of the catastrophe that happened in New York City on September 11th 2001.
What if there were more of such works around the city?
What if such reflections appeared on façades around the world?
Maybe some would be just temporary. Some would be there to stay.
Some would be tiny and private. Some would be large enough to give visitors a feeling of the presence of the two buildings.
Posted by Witold Riedel at July 22, 2002 10:32 PM